NYE & The Tourist
yea.i had a great time of NYE with my boy.
first, going to Central Park and watched
The Tourist
Angelina Jolie
and
Johnny Depp
in 1 scene. ever see it?
The blondie gorgoeus sexy Angeline Jolie and The Best ever "Pirates".
through watching the film i just admire 2 of them.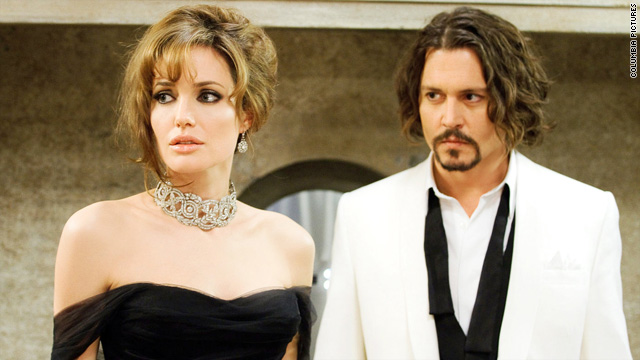 however, the story line is so so.
but makes me wonder and curious of it.
a math teacher,actually also a tourist,
Frank
( Depp ) met
Elise
(Jolie) in the train.
and the adventures begin here.
Elise is a lover of Alexander Pearce, who steal money from a mafia's head, Shaw.
So, Pearce is in searching and Elise makes Frank get involved in it.
a man who is truly in dangerous love with Elise while Elise is in actually searching her ex-lover, Pearce. really is an intrict and hazardous - risky situation.
will Elise found Pearce or get in love with Frank?
just see it.
whow. guw cuma terpana liat Angelina Jolie yg udah agak tua tapi masih an amazing woman.
sexy and beautiful.
while Johnny Depp sometimes cool and funny man.
dengan scenes yg hampir semuanya di

Italia

, the most romantic place in the world, feels like "WOW". and all expensive things in that film is crazy. sangat pengen tinggal di suite yg berhadapan langsung dengan laut dan bentuk ruangan yg tinggi ke atas. its a wow.
soal jalan cerita. di awal masi nebak nebak bingung, nebak nebak capcipcup, sebenernya Pearce itu yg mana dan dimana. dan di akhir film bakal dapet sebuah

"kerutan kening"

. serius.
a lazy thriller. a while-sleep movie. but GOOD and WORTH to watch

BEST ACTRESS

and

BEST ACTOR

:)
after watched The Tourist, we ate at Burger King. YeaY.
a Whooper for me and BK Double Chicken Pepper with two Frozen.
Happy New Year 2011

all :)
Write a new story in your 2011's book