R.E.D
action comedy you should watch.
R

etired

E

xtremely

D

angerous.

berkisah tentang para pensiunan CIA yang kembali bertugas untuk mengungkap suatu kejahatan. Dimulai dari dikuntitnya si Frank ( Bruce Willis ) oleh CIA. Frank akhirnya mulai meminta bantuan teman-temannya untuk mengungkap siapa dalang di balik peguntitan dan unsur penangkapan atau pembunuhan si Frank.
Frank
(Bruce Willis),
Joe
(Morgan Freeman),
Marvin
(John Malkovich) and
Victoria
(Helen Mirren) adalah sekelompok agen CIA yang kompak dan kembali bekerja sama dalam kasus ini.
Ada kasus apa dibalik penguntitan si Frank ini?
Wholefully i can say that this movie is GREAT.

sangat terhibur

.
selain
actionnya yang mantap,
ada juga
unsur komedi
di dalam film ini.
and for you know, hampir semua disini tampaknya adalah pemain kawakan.
tua tua keladi semua. bisa pegang senjata dan menggunakannya dengan baik.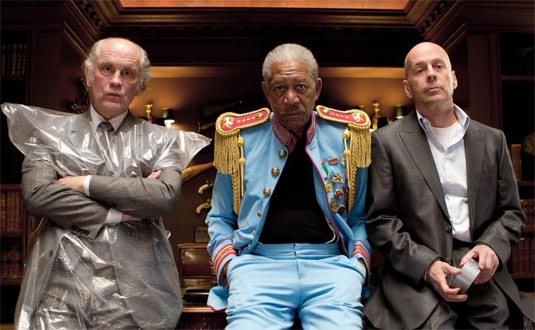 insting terhadap musuh yg akan melawan juga gede ( pengen banget punya insting kaya gitu, jadi kalo ada penjahat yg mau berbuat jahat dah ketawan duluan )
senjata-senjata alias pistolnya disini jg mantap mantap.
everything is COOL here !
i can't tell you any words again.
Just one word : INCREDIBLE !
beneran salah satu action movie yg

PATUT / RECOMMENDED

untuk ditonton.