movie rally 3 : Legend of the Guardians : The Owls of Ga'Hoole
Legend of the Guardians : The Owls of Ga'Hoole
lucky me i watched this movie in
3D
. yuhuu.
::comments & little review::
Soren dan Kludd ditangkap sama segerombolan penjahat burung hantu sewaktu malem2 lagi main dahn jatuh ke bawah tanah. Penjahat burung hantu ini nangkep-nangkepin burung hantu yang sendirian buat dijadiin prajurit penjahat gitu. disini Soren ketemu Gylfie,burung hantu kecil. Soren dan Gylfie berusaha kabur, tp Kludd malah ketagihan dan jd bawahan si penjahat burung hantu deh.
Soren keluar daerah sana bareng Gylfie, tapi sebelumnya diajarin dulu sama burung hantu yang baik didaerah itu. Mereka diajarin terbang. Soren dan Gylfie mencari The Guardian, yg bisa bantuin semua burung hantu yg ditangkap disana. Selama perjalanan, mereka dibantu burung hantu lain, ada Twilight dan Digger.
sebuah perjuangan pemuda burung hantu yang hebat.
akhirnya si Soren melawan Metal Beak, ketua penjahat burung hantu.
----------------------------------------------------------------------
an inspiring story, punya makna tersendiri.
We have dream. If we believe our dream, it will become a reality.
itu sih yg guw tangkep.
walaupun itu cuma mimpi, tapi kalo percaya, pasti itu bisa jadi kenyataan.
bis nonton ni film di 3D, berasa 3D nya dikit si, tapi lumayan. not bad.
bis nonton film ini pula, guw
jadi tahu sedikit tentang burung hantu
. awalnya guw
ga tau sama sekali dan ga peduli sama yg namanya burung hantu.
Burung Hantu punya jenis spesies yg banyak.
And
do you know?
Spesies Burung Hantu yang ada di Legend of the Guardians bener bener ada loh !
Let me introduce The Owls :
( N.B : JUST THE OWLS that i LIKE) hahha :p
Soren
is a
Young Male Barn Owl
. familinya
Tyto
( BENERAN ternyata! karena
di film juga Tyto disebut2
).
aaahh..cuteee..baru tau bener deh, ada burung hantu cute :)
bandingin ni sama Soren yg lagi terbang dan ada di film.
Gylfie
is an
Elf Ow
l.
Burung hantu kecil pekerja keras.
Elf owl tampak lebih serem daripada si Gylfie yang imut-imut di film. sayank sekali T.T
Eglantine
is a
female Barn Owl
. Eglantine at the movie is
so cuteee
:) Eglantine is Soren's lovely sister. Hyaaa.. even Owl. Kakak dan Adik saling mencintai.
Digger
is a
Burrowing Owl
.
has tracking abilities and knowledge about land is good
.soalnya emank lebih suka tinggal di tanah a.k.a di rumahnya. aah, Digger in movie, one more time, funnier than the genuine. hahhaha
Twilight
is a
Great Gray Owl
. Wohooo. Mirip ini. ahhahaa. di film, Twilight suka maenin musik + nyanyi. masa iya Owl yg asli spesies ini jg suka nyanyi?
and
The Guardian Soldier
:
Barron and Borron
.
The Snowy Owl
. Borron is The King of The Tree. Ketua Guardiannya. Mereka bertempur pake alat perang emas gitu di kepala ma cengkeraman cakar di kaki. Mantap !
* Masi ada jenis burung hantu lain yg ada di film, kaya si Ezlryb, Nyra dan Metal Beak.
dan saia baru tahu

ada beberapa burung hantu yg ga bisa terbang kalo udah di tanah

alias susah lagi naik ke atas. tapi ternyata ada caranya.
Cara mencengkeram musuh ato membawa sesuatu di kakinya burung hantu jugaa keren !
dan satu lagi. Sayap mereka waktu terbang di langit is really AMAZING :)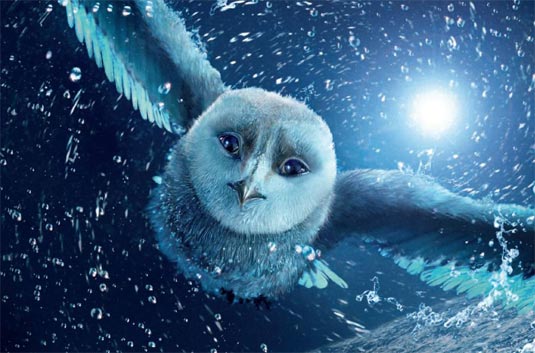 got knowledge then after watched this movie
. teheee.
and the soundtrack is from
Owl City - To The Sky
( looks like chosen because of the "OWL" , hahaha )