Street Dance
Street Dance
anyway,me already watched :D
kinda well than Step Up 2 I think.
because the way of the stories is more meaningful.

there's
much way combination of Ballet Dance and Street Dance
.
tell a stories about Carly who has to lead a dance group to win the UK StreetDance Championship (if i am not mistaken,hehe). Carly is left by her boyfriend,Jay who join The Surge, the last Winner.
Carly and her group then join the Ballet Dancer because of Helena, so Carly can use the dance room. They're together dancing to win the streetdance Championship.
there's still romance scene, eventhough a little, about Carly&Jay, also about Carly and new ballet dancer names Tomas.
will Carly and her new group, Breaking Point can get all this through and perform the best?
just see Street Dance,all :D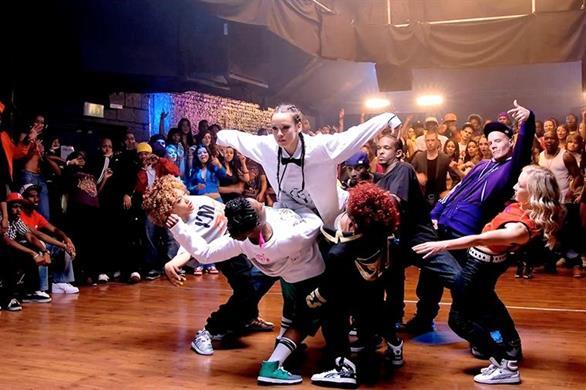 like other dance movies, all songs here are

COOL

!

rnb hiphop

which can make u dance. i love rnb hihop songs.

the beat can make u feel great i think

:D


ada unsur

humor

disini. jd ga bosen2in amat filmnya.

not such a boring and alllll are great dancing scenes.



ada pelajaran

teori streetdance for beginners

. keren ni.

orang2 baletnya

jg keren.all the dance scenes i love.






for info

: in the last scene, there's a boy named Eddie

(George Sampson)

, Carly's friend. he's the 2nd winner of Britain's Got Talents. wow
for info

:

The Surge

a.k.a

Flawless

is really really

the WORLD STREET DANCE WINNER

and Britain's Champion of Street Dance. Pantesaaaannnn. tiap gerakan mereka itu keren. bener2 flawless, ga ada cacat. KOMPAK pula. mantapp dah. thumbs up for them.




ENDING NGEGANTUNG ! huaaa..i don't like it. payaaah :(

here are the cool songs of the Street Dance Soundtrack Album
01. Tinie Tempah – Pass Out




02. N-Dubz, Bodyrox – We Dance On




03. Lightbulb Thieves – Work It Out




04. Ironik – Tiny Dancer (Hold Me Closer)




05. N-Dubz – Strong Again




06. Pixie Lott – Live For The Moment




07. Aggro Santos, Kimberly Wyatt – Candy




08. Cheryl Cole – Fight For This Love




09. Lethal Bizzle – Going Out Tonight




10. Sugababes – Get Sexy




11. LP, JC – The Humblest Start




12. Wiley – Cash In My Pocket




13. Madcon – Beggin'




14. LP, JC, Skibadee, Mc Det, Chrome, Blemish – Club Battle




15. Fatboy Slim – Champion Sound




16. Vega4 – Life Is Beautiful




17. McLean – Broken




18. Swiss, Music Kidz – One In A Million